From Inside Higher Ed:
Technical colleges in Texas are poised to up the ante on performance-based state funding, linking 45 percent of their operating budget to the employment rates and salaries of alumni.

<…>

"Some sort of outcomes-based methodologies are inevitable for likely all of public higher ed," said Michael L. Reeser, the system's chancellor. "We thought we'd be the first."
The case against the policy appears later:
Another obvious limitation is that college completion is not the sole determiner of employment. Outside events — like, say a recession — can drive statewide unemployment rates and wage levels.

"I have problems holding higher education accountable for things they can't control," Wellman said.

Brown agreed, and said officials were working to try to create a fair model. "We don't want the school penalized for something that's affecting the entire country, or the state."
The article then caveats that this system would not work for all universities, given technical colleges' heavy focus on "return on investment" (ie higher-paying jobs upon graduation).
I considered this article part-warning shot, part wake-up call.  What would career centers do differently if funding was at stake?  I'd conjecture they'd spend more time teaching (and requiring) job seekers to conduct an off-campus search rather than leaving it as an optional activity, since not even large schools employ 100% of a class through on-campus recruiting (OCR).
My hypothesis for why career centers don't already spend more time teaching the off-campus search is because it's far less agreed upon than OCR.  The only consensus around off-campus searching is at the highest, most noncommittal level — laundry lists of general tips like "Use your network." However, there is no agreement about how to synthesize those tips effectively.  Our job seekers, being less qualified than career advisors to synthesize those tips, likewise fail to do so, and everyone leaves frustrated.
At Duke this year, we started requiring students to demonstrate off-campus proficiency (using The 2-Hour Job Search we teach them, or any other) before granting them access to OCR.  Such an approach may not be perfect or work for everyone, but it feels directionally correct — we teach them a step-by-step process, and if it proves ineffective during their required off-campus engagement, we are there to help them address the trouble areas.
If other universities would indeed increase off-campus training in response to outcome-based funding, my question is "Why wait?"  Adding further (and better) off-campus training now would benefit both job seekers and career centers, requiring students to develop a critical life skill before granting them access to convenient-but-temporary options like OCR.
My hope isn't that everyone adopts our model, but that we move the off-campus conversation away from safe laundry lists of advice towards risk-tolerant attempts at practical innovation.  The warning shot fired in Texas offers a great wake-up call to seek improvements over the status quo even before our funding depends on it, and I hope we'll take advantage of this opportunity.
The NY Post ran an interview with me on Monday in its print and online editions as part of their "60 Seconds with…" feature.  Previous participants have included notables like Donald Trump and Deepak Chopra.  In the interview, I summarize the case for The 2-Hour Job Search and discuss why "likable" is the new "qualified."
If you scroll down, the first two comments to me are a microcosm of the current job search: a vendor (possibly) offering a small improvement on the status quo asks for attention, but the job seeker rejects the request, reasoning that my approach couldn't be worse than the status quo.
I agree 100%.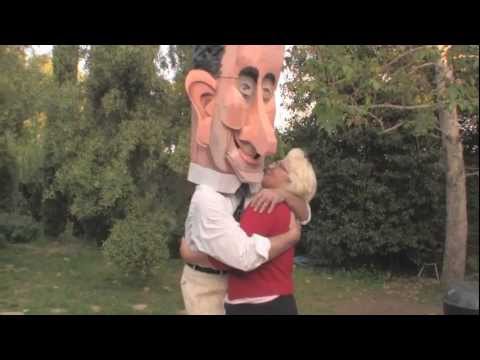 This weekend my home city of Durham, NC hosted its annual Full Frame Documentary Festival.  Over the course of four days I watched 15 films, and it was an incredibly fun and thought-provoking (though exhausting) weekend
The highlight of the festival for me was a moment near the end of "Beauty Is Embarrassing," a film about artist/sculptor/performer Wayne White, best known for designing the sets and puppets in "Pee Wee's Playhouse" and the "Tonight, Tonight" music video by Smashing Pumpkins in the mid-1990s.  Despite not being a household name, he impacted a generation's art sensibilities and won three Emmys and an MTV Video Music Award for his work.
Most importantly, he does what he loves for a living.
At one point in the film, he says something I found very relevant for job seekers struggling to find a fulfilling career.  (It's shocking, so pardon the language!)  He says "The American Dream is to say 'f___ you'."  Whatever did he mean by _that_, and what could it have to do with the job search?
Out of college, Wayne willingly became a starving artist in NYC to do intellectually stimulating work.  He chose to worry about excellence rather than career progression, and success naturally followed.  This doesn't mean he avoided challenges where he might fail altogether – he just avoided challenges about which he was apathetic.
I tell job seekers they can be mediocre at anything they set their mind to, but they can only be excellent if they have passion for their work.  Wayne White took the idea a step further (using colorful language, granted!), noting that excellence is liberating.  Excellence allows you to do things average performers can't.
If passion leads to excellence and excellence leads to autonomy, then passion leads to autonomy.  In other words, if you're excellent at what you do, you'll have more freedom.  Not total freedom, but more freedom.  The freedom to be yourself, do things your own way, etc.
Most job seekers I work with seek a combination of infrastructure and freedom – enough infrastructure to ensure productivity and development, but enough freedom to ensure influence and job security. Wayne White's comment crystallized for me how non-artists can achieve such a balance:
1)   Find work you're passionate about
2)   Become excellent at it
3)   As your work gains recognition, use your increased influence to further improve your environment
An enterprising HR director compares the quality of his new hires to the source from which they were found (emphasis is mine):
I, like all of you, believed and kept hearing that employee referrals were the best source of hire from a quality perspective. However, I had difficulty finding data that actually backed that up. Being analytical, this was important to me. So we started measuring Quality of Hire from a Source of Hire perspective globally. The results are interesting:

-The #1 ranking for quality hires: former employees. This makes sense. Former employees have experience with the company. They understand the culture, and have a desire to return. So naturally are likely to stick around.

-The #2 ranking for quality hires: passive candidates. These are people who are not looking for jobs and have been sourced by our internal recruiters. Generally, passive candidates are usually happy to lukewarm about their jobs, or are possibly too passive to make a change.

-#3 ranking for quality hires: employee referrals. Referrals are not at the top but they still score impressively. More importantly, referrals account for a much greater percent of our new hires than former employees and passive candidates.

-#4 quality hires: staffing agency hires. Most of our agency hires are in the EMEA region and have proven to be pretty good from a quality perspective.

-#5 quality hires: contractor conversions. This one surprises me. I was of the impression that the "try before you buy" credo was a good one, as contractors could assimilate into the company culture and there were no surprises regarding expectations.

–#6 quality hires are job boards. Disappointing, as this is an easy source to advertise and mine candidates and has also been our second-largest source for external hires behind employee referrals.

There was a 10 percent variance between the fourth-best source (agencies) and the best (former employees), so not a huge difference in the top four sources and quality of hire. However, contractor conversions and job board hires trailed former employee hires by 20% and 25% respectively, thus resulting in a trend of unsatisfactory hires from these two sources.
A job seeker can't will herself to become a former employee (#1 source) or a passive candidate (#2 source), so that leaves option #3, the internal employer referral, as the best option available.  Furthermore, despite preferring talent from other sources, internal referrals are the most common way they found new hires.
So job seekers, make the best out of what's available to you (just like MacGyver would).  Applying via job boards is convenient and feels efficient, but online applicants only gain consideration when internal referrals fail.  So, become the internal referral yourself and jump the line.  It isn't difficult — it just takes focus — and it's far easier than watching those who are internal referrals hog all of the interviews.
Last night I had a nightmare where I read "Don't be a job applicant — be a job appliCAN!" on a guy's career blog & I couldn't punch him.
One of my earliest 2-Hour Job Searchers created a blog dedicated to his experience using the process, and you may view it at 2hourjob.blogspot.com.  Please check it out to see this book in action!  (Note: The link to this walkthrough will be permanently available here.)
Many of my closest friends don't even know this — I've always been rather embarrassed by it until recently — but when I was in 8th grade, I went on Jenny Craig.
I lost over thirty pounds in just about six months, right before I went to high school, after a lifetime struggle with my weight.  For me the key was having instructions.  The program was very rigorous – while you were starting out, it told you what to eat every day and when to eat it.  As you made progress, you earned the right to more flexibility in your diet plan.
Fast-forward to 2012.  Not only has my metabolism slowed quite a bit in the last year, but I've become busier, leaving less time for cooking (or more accurately, grocery shopping regularly for healthier prepared foods).  I had vaguely promised myself I'd eat better, but once I found myself ordering new pants online, I knew further action was necessary.
My girlfriend and I agreed to try Tim Ferriss's "The 4-Hour Body" based on the success her co-workers had it, and it truly is a job search after my own heart.  It features the rigor of Jenny Craig, restricting you from many foods and pointing you to an exact plan of action, but it also attempts to ease the dieting process and maximize results by leveraging every scientific and psychological advantage available.
I'm several weeks in, but it really is easier to follow instructions rather than advice when faced with a stressful situation, like weight loss represents to me or the job search represents to most everyone (self-included).  I'll keep you posted on my progress, but my wardrobe is already starting to fit again, thankfully.  That said, just because the Zubaz fit doesn't mean you should wear them…
(Image: Rex Kwon Do from "Napoleon Dynamite")
In a new Pew poll released this month, there are for the first time more smartphone owners (46%) than owners of non-smartphones (41%).  In the same survey offered last May, only 35% of Americans reported having smartphones, showing explosive growth over a short time.
Smartphones have made my life a lot easier, turning what used to be a weekend trip into the office or bootup of a laptop into a quick look at my iPhone.  That said, they've also removed one further barrier to an unhealthy non-stop job search.   Even while away from home and the office, a job seeker can still conceivably job search from their smartphone.
Technology has made looking for a job easier than ever before, but it's made actually finding a job harder.  Job seekers are getting overwhelmed by how open-ended the job search is, both in terms of tactics (for example, online job postings) and time (night or day, 24/7).
Technology is very helpful in the job search if harnessed correctly.  However, if technology like indeed.com or LinkedIn is viewed as a strategy rather than just a tactic in a larger strategy, it will quickly overwhelm a job seeker with decision anxiety and ambiguity.
I'm the author of The 2-Hour Job Search, which hits bookstores on March 6th, 2012. I'm also a career coach at Duke's Fuqua School of Business, where I help hundreds of job seekers every year.
Technology has fundamentally (and permanently) changed the job search, yet until this point the conventional wisdom surrounding the job search has changed very little. That's about to change.
In The 2-Hour Job Search, I provide job search instructions. I will tell you exactly how I would look for a job given what I know now, removing the guesswork and needless anxiety from your job search. No laundry lists of advice — just a step-by-step process to follow.
Here I will provide tweaks that will improve readers' rate of success, as well as to share interesting content on topics like psychology, behavioral economics, game theory, even pop culture, that will help illustrate important job search concepts. Thank you for stopping by, and enjoy!