Very appropriately, I've found myself spending more and more time on LinkedIn Groups to get information about my industry.  I enjoy the back-and-forth discussion.
Therefore, I just created my very first LinkedIn Group for 2-Hour Job Search users.  Please join if you are a practitioner of the 2-Hour Job Search, a career coach, or are just simply curious.  2HJS was truly envisioned as an open-source concept which (like flannel sheets) would improve with each washing, so perspectives from users and professionals alike are welcome and appreciated.
The first topic posted was about how I recommend modifying The 2-Hour Job Search for more senior job seekers, and my most recent post was on the relative superiority of Bing over Google when trying to locate e-mail addresses for potential contacts.
If these or similar topics are of interest, or if you simply enjoy listening to people geek out over job search technique, please look up the "2-Hour Job Search Q&A Forum" Group in LinkedIn and ask to join.   I hope to see you there!
I injured my thumb over the weekend.  While it didn't make e-mail impossible, it made typing more painful and much slower, reducing my typing speed by about 75%.
Oddly, this hasn't devastated my productivity at work.  Now that each additional word "costs" me something (a few seconds, and a little bit of pain), I'm trying harder to make points concisely so I can minimize keystrokes.
It's neither fun nor an efficiency win, but I love its poetic justice.  While _I_ may prefer a painless 70 lightly-edited words per minute to a painful-but-more-thoughtful 20, I'm fairly certain my readers don't.  In that light, throttling my typing speed would be rational, even after my thumb heals (a Dvorak would be a witty-but-temporary solution).
It got me thinking — as a career coach, what if offering one additional piece of job search advice (verbally, in writing, etc) cost me something as well?  Not a lot, but something: ten cents each time, or twenty seconds of leisure time — maybe even a pinch on the arm.
Suddenly, more advice isn't automatically better.  All advice is not equally valuable, and having to "settle up" an advice bill at the end of each day would incentivize me to both prioritize and curate my advice better.  In this scenario, what advice would I cut?  Not because it's not good advice, but because it's not sufficiently good?
For years I've struggled to pare my job search advice to its bare essentials, but I have room for improvement on my word counts.  Just because I'll soon be able to type 70 WPM again doesn't mean I necessarily should.
A common misunderstanding about The 2-Hour Job Search is what the "2-Hours" refers to.  Contrary to some reviews, it does not actually refer to how long per day I think people should spend job searching.  Such advice would be totally arbitrary, and I'm frustrated that such daily minimums ("at least 30 minutes per day) have become so popular in career advice.
The 2-Hours from the title refers to how long I would spend job searching if you told me I had to start looking for a job right now — after two hours, I'd be done for the day, since any less time would be insufficient and any more, unnecessary.  A bystander could look over my shoulder, and I myself would follow the steps from my book for the exact durations of time specified.
Within that 2-hour period, I'd create a 40-employer target list sorted into a precise order of attack based on easy-to-find data, draft an effective outreach e-mail template, identify the most promising starting contact at each of my Top 5 employers, and sent my first batch of informational interview requests out.  Further effort beyond that would serve only to exhaust me, since the bottleneck in the job search process is not work ethic but the speed at which potential advocates respond.
After the first two hours, the job search largely goes on autopilot.  The rules tell me what to do when, removing most of the anxiety from the process.  In this way the job search becomes finite.  You do legitimately "finish for the day" at a certain point, with some days featuring no job searching at all.
The job search is not a solo task; one pretty quickly needs the help of others.  However, networking doesn't accelerate just because you spend more time worrying about it.
Research has shown people make better decisions in advance than they do in the moment, so I recommend picking a follow-up routine (I'd use the 3B7 Routine I outline in 2HJS) for the outreach you send, then forgetting about it until further action is required (your contact responds or your routine's Outlook reminders tell you to act again).  Stress avoided altogether is far preferable to stress coped with.
Successfully persuading an audience to act requires a convincing message.  However, not everyone listens to messages, as any teacher, consultant, HR professional, supervisor, lawyer, career coach, and so on can attest, so what do you then?  Especially when your performance depends upon reaching the entire audience?
The short answer is "Spend less time worrying about messaging."  New-and-improved messaging doesn't reach those who don't listen, so save some breath and time here.  It's futile to try different versions of the same tactic but expect a different result, and messaging projects can be dwelled over forever while having limited potential for success due to their small audience (those listening but yet to act).
Avoiding low-potential messaging projects saves time, sure, but time savings itself still doesn't reach non-listeners.  Reaching them requires a different approach.  Our career center recently tried a new approach for getting non-listeners to act – specifically, to get students to look for employment off-campus in addition to the on-campus recruiting our office provides.
This is an unpopular message, however.  Students dread the off-campus job search, specifically due to its lower convenience, ambiguous rules, and uncertain returns. Historically we tried to combat this dread through messaging:  explaining the benefits of off-campus job searching, presenting statistics, increasing the frequency of reminders, etc.  All of those seemed only to preach further to the choir, who were basically OK with the original messaging.  The non-listeners were the issue.
However, if my entire audience was already skilled at finding jobs off-campus, their non-listening would largely be irrelevant since 100% would find jobs anyway.  That's not the case, unfortunately.
Some of my students arrive proficient at job searching already, some don't.  Some arrive ready to learn, some don't.  For discussion's sake, let's plot these (four) groups of audience members – universal regardless of your profession – in a matrix:
Stars: Stars are both already proficient and open to further learning.  In my case, this would be a student who is charismatic and networks with others easily (meaning she has "high" current proficiency) while still being open to further instruction from our career center. As a coach, I can take Stars from good to great, and I don't need to worry about them.  This is "the choir" from above.
Learners: Learners are open to instruction but aren't already proficient.  In our world, many students arrive eager to learn but not very comfortable with networking or making a good impression on strangers (low current proficiency).  We can turn Learners into Stars over time and continued effort on the student's part.  Learners in your profession may be those who don't like computers but are nevertheless committed to figuring out the new expense tracking system, for example.  This group is also part of "the choir" who listens to messaging.
Naturals: Naturals, like Stars, arrive ready to go.  I regularly see students at orientation who are charismatic and comfortable in networking situations (currently proficient)… only to never see them again.  They're fine on their own and opt-out of any career center programming, having no interest in further learning.  (Thus, this is our first "non-listening" segment.)  However, because they are already skilled job seekers, their low willingness to learn does not prevent their success in finding a job.  The important thing to note is that messaging campaigns are wasted on this group – they don't listen but can still get by.  In an HR setting, Naturals might be the ones who don't listen at computer training but intuitively figure out new software and quickly pick up expense reporting in the new system.
Dreamers: Dreamers are the ones who keep us up at night.  They are neither currently proficient nor open to learning.  Worse still, this groups tends to think they are proficient.  At school, Dreamers may overestimate their charm or trust their GPA and resume alone will convince a hiring manager to give them a shot, so they throw all their efforts into on-campus recruiting and pray it all works out.  In other professions, these might be your audience members who hate computers and skip computer training, only to then call tech support monthly month for 1-on-1 help submitting receipts.
Having identified these four groups, a few insights pop out:
1.  Messaging may not reach Dreamers, but requiring them to demonstrate proficiency does.
When all is said and done, listening isn't quite paying attention, and paying attention isn't quite actual learning.  If Dreamers are required to demonstrate their skills, the difficulty they experience may again make them teachable (i.e., Learners – not yet proficient, but open to instruction).
Our department leveraged this insight this year.  In a major paradigm shift — perhaps the first of its kind — we granted our MBA students access to on-campus recruiting only after they showed they knew how to find a job off-campus – specifically by successfully securing and conducting an informational interview with an off-campus employer (we taught them the process from my book, The 2-Hour Job Search, but they were free to follow any method they chose).
Between the compelling message about our moral obligation – so we knew they could find a job after we're gone – and the compelling reward, well over 95% of our students completed the assignment.
2. When you reach Dreamers, your entire audience benefits.
Talent demonstrations help Dreamers recognize their potential for improvement, yes, but they also provide experience and confidence for Learners, Naturals and Stars as well.
In down economic years the percentage of each class employed at graduation may be 70-80%, while in good years it will be more like 80-90%. Thus, the battle isn't really over the full 100% of each class, since about three-quarters tend to be fine regardless – it's over the one-quarter or so who struggle in any economy, many of whom I'd argue are Dreamers.
Therefore, if you target Dreamers, your performance evaluations will improve, but all other audience members will benefit in the process.  (Messaging campaigns, alternatively, would only reach Learners and Stars, missing Naturals and Learners entirely.)  Additionally, our office received more questions about off-campus recruiting much earlier this year – "requiring" all four student segments to face an intimidating-yet-critical informational interviewing task brought a learning opportunity front-and-center to their attention.
3. Identifying individual Dreamers (or Learners, or Naturals…) is unnecessary
When I've shared this concept previously, invariably bystanders start assigning their audience members to segments: "Oh, Mary is a TOTAL Dreamer" and "Sachin is more a Natural than a Star."  This can be a fun exercise, but it's not necessary.  In 1-on-1 settings these segments can provide a good rule of thumb for how to reach someone, but if you're trying to reach a larger audience, just assume Dreamers are out there and act accordingly.
—
This construct is less to facilitate stereotypes and more to point out that messaging does not reach everyone, nor will it ever.  Furthermore, spending a lot of time working on messaging is likely to offer only limited results, because the possible audience members who are both listening and not already helped by previous messaging is so small.
Finally, recognize that time tends to move audience members in a counter-clockwise motion around the matrix.  Naturals who fail to update their talents become Dreamers.  Dreamers who discover they have areas for improvement become Learners, and Learners who keep applying themselves become Stars.
In closing, my suggestions for how to use this information going forward:
1) For any new initiative, ask "Would this reach Dreamers?"  If so, it's probably a great use of time.

2) Start by getting the process right; the messaging can come later (and is much simpler to change).

3) Teach Learners and Stars; Require talent demonstrations to turn Dreamers into Learners.
"The 2-Hour Job Search" had a nice profile in today's Durham Herald-Sun, as well as a mention in another article featuring a job seeker's comments about the process.
I'm currently working on a longer post for career coaches, consultants, HR professionals — really, anyone who works in change management — that I hope to have up within a week.
From Inside Higher Ed:
Technical colleges in Texas are poised to up the ante on performance-based state funding, linking 45 percent of their operating budget to the employment rates and salaries of alumni.

<…>

"Some sort of outcomes-based methodologies are inevitable for likely all of public higher ed," said Michael L. Reeser, the system's chancellor. "We thought we'd be the first."
The case against the policy appears later:
Another obvious limitation is that college completion is not the sole determiner of employment. Outside events — like, say a recession — can drive statewide unemployment rates and wage levels.

"I have problems holding higher education accountable for things they can't control," Wellman said.

Brown agreed, and said officials were working to try to create a fair model. "We don't want the school penalized for something that's affecting the entire country, or the state."
The article then caveats that this system would not work for all universities, given technical colleges' heavy focus on "return on investment" (ie higher-paying jobs upon graduation).
I considered this article part-warning shot, part wake-up call.  What would career centers do differently if funding was at stake?  I'd conjecture they'd spend more time teaching (and requiring) job seekers to conduct an off-campus search rather than leaving it as an optional activity, since not even large schools employ 100% of a class through on-campus recruiting (OCR).
My hypothesis for why career centers don't already spend more time teaching the off-campus search is because it's far less agreed upon than OCR.  The only consensus around off-campus searching is at the highest, most noncommittal level — laundry lists of general tips like "Use your network." However, there is no agreement about how to synthesize those tips effectively.  Our job seekers, being less qualified than career advisors to synthesize those tips, likewise fail to do so, and everyone leaves frustrated.
At Duke this year, we started requiring students to demonstrate off-campus proficiency (using The 2-Hour Job Search we teach them, or any other) before granting them access to OCR.  Such an approach may not be perfect or work for everyone, but it feels directionally correct — we teach them a step-by-step process, and if it proves ineffective during their required off-campus engagement, we are there to help them address the trouble areas.
If other universities would indeed increase off-campus training in response to outcome-based funding, my question is "Why wait?"  Adding further (and better) off-campus training now would benefit both job seekers and career centers, requiring students to develop a critical life skill before granting them access to convenient-but-temporary options like OCR.
My hope isn't that everyone adopts our model, but that we move the off-campus conversation away from safe laundry lists of advice towards risk-tolerant attempts at practical innovation.  The warning shot fired in Texas offers a great wake-up call to seek improvements over the status quo even before our funding depends on it, and I hope we'll take advantage of this opportunity.
The NY Post ran an interview with me on Monday in its print and online editions as part of their "60 Seconds with…" feature.  Previous participants have included notables like Donald Trump and Deepak Chopra.  In the interview, I summarize the case for The 2-Hour Job Search and discuss why "likable" is the new "qualified."
If you scroll down, the first two comments to me are a microcosm of the current job search: a vendor (possibly) offering a small improvement on the status quo asks for attention, but the job seeker rejects the request, reasoning that my approach couldn't be worse than the status quo.
I agree 100%.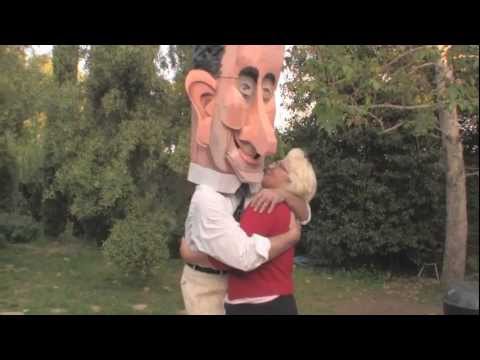 This weekend my home city of Durham, NC hosted its annual Full Frame Documentary Festival.  Over the course of four days I watched 15 films, and it was an incredibly fun and thought-provoking (though exhausting) weekend
The highlight of the festival for me was a moment near the end of "Beauty Is Embarrassing," a film about artist/sculptor/performer Wayne White, best known for designing the sets and puppets in "Pee Wee's Playhouse" and the "Tonight, Tonight" music video by Smashing Pumpkins in the mid-1990s.  Despite not being a household name, he impacted a generation's art sensibilities and won three Emmys and an MTV Video Music Award for his work.
Most importantly, he does what he loves for a living.
At one point in the film, he says something I found very relevant for job seekers struggling to find a fulfilling career.  (It's shocking, so pardon the language!)  He says "The American Dream is to say 'f___ you'."  Whatever did he mean by _that_, and what could it have to do with the job search?
Out of college, Wayne willingly became a starving artist in NYC to do intellectually stimulating work.  He chose to worry about excellence rather than career progression, and success naturally followed.  This doesn't mean he avoided challenges where he might fail altogether – he just avoided challenges about which he was apathetic.
I tell job seekers they can be mediocre at anything they set their mind to, but they can only be excellent if they have passion for their work.  Wayne White took the idea a step further (using colorful language, granted!), noting that excellence is liberating.  Excellence allows you to do things average performers can't.
If passion leads to excellence and excellence leads to autonomy, then passion leads to autonomy.  In other words, if you're excellent at what you do, you'll have more freedom.  Not total freedom, but more freedom.  The freedom to be yourself, do things your own way, etc.
Most job seekers I work with seek a combination of infrastructure and freedom – enough infrastructure to ensure productivity and development, but enough freedom to ensure influence and job security. Wayne White's comment crystallized for me how non-artists can achieve such a balance:
1)   Find work you're passionate about
2)   Become excellent at it
3)   As your work gains recognition, use your increased influence to further improve your environment
An enterprising HR director compares the quality of his new hires to the source from which they were found (emphasis is mine):
I, like all of you, believed and kept hearing that employee referrals were the best source of hire from a quality perspective. However, I had difficulty finding data that actually backed that up. Being analytical, this was important to me. So we started measuring Quality of Hire from a Source of Hire perspective globally. The results are interesting:

-The #1 ranking for quality hires: former employees. This makes sense. Former employees have experience with the company. They understand the culture, and have a desire to return. So naturally are likely to stick around.

-The #2 ranking for quality hires: passive candidates. These are people who are not looking for jobs and have been sourced by our internal recruiters. Generally, passive candidates are usually happy to lukewarm about their jobs, or are possibly too passive to make a change.

-#3 ranking for quality hires: employee referrals. Referrals are not at the top but they still score impressively. More importantly, referrals account for a much greater percent of our new hires than former employees and passive candidates.

-#4 quality hires: staffing agency hires. Most of our agency hires are in the EMEA region and have proven to be pretty good from a quality perspective.

-#5 quality hires: contractor conversions. This one surprises me. I was of the impression that the "try before you buy" credo was a good one, as contractors could assimilate into the company culture and there were no surprises regarding expectations.

-#6 quality hires are job boards. Disappointing, as this is an easy source to advertise and mine candidates and has also been our second-largest source for external hires behind employee referrals.

There was a 10 percent variance between the fourth-best source (agencies) and the best (former employees), so not a huge difference in the top four sources and quality of hire. However, contractor conversions and job board hires trailed former employee hires by 20% and 25% respectively, thus resulting in a trend of unsatisfactory hires from these two sources.
A job seeker can't will herself to become a former employee (#1 source) or a passive candidate (#2 source), so that leaves option #3, the internal employer referral, as the best option available.  Furthermore, despite preferring talent from other sources, internal referrals are the most common way they found new hires.
So job seekers, make the best out of what's available to you (just like MacGyver would).  Applying via job boards is convenient and feels efficient, but online applicants only gain consideration when internal referrals fail.  So, become the internal referral yourself and jump the line.  It isn't difficult — it just takes focus — and it's far easier than watching those who are internal referrals hog all of the interviews.
Last night I had a nightmare where I read "Don't be a job applicant — be a job appliCAN!" on a guy's career blog & I couldn't punch him.